Today I am grabbing the progressive blog baton from Kristen to talk about (in)RL.
It's wild when something that starts as a small idea explodes into real community isn't it?
That's how (in)courage was started and now, it is the story of (in)RL.
If you haven't heard of (in)RL (in REAL LIFE), please check out this video before I go any further.

and this one for more of the why…
Doesn't it just sound wonderful!?
So essentially, (in) RL kicks off with a webcast for everyone to watch in their living rooms Friday, April 27 and then  a dedicated day of (in)courage meetups on Saturday, April 28- think mini beach house parties – all around the country and globe and a webcast for everyone to tune into. A local meetup on a global scale; friends will gather to watch live webcasts of (in)courage contributors and community, connect with one another, and discover new friendships they didn't know were right around the corner!
I know that  for me, as a busy working mom, I sometimes find it challenging to make time to cultivate new friendships. I believe that (in)RL will be the perfect opportunity to get to know women right in Nashville. (in)courage gets the importance of REAL community, which is why they created such a beautiful "unconference" like (in)RL.
How to sign up? It's easy – first, register here (it's $10 and you get a t-shirt and card pack – what an awesome deal!) and then sign up here to host or attend an (in)RL beach house party.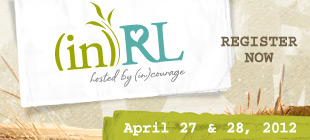 I really hope you will plan to attend a gathering in your local community – or even host one if there isn't one in your area. Hosts also have the opportunity to purchase specially discounted beach houses in a box, which are chock full of amazing DaySpring products.
I'm super excited about the Nashville meet-up that Angie, Annie and I are hosting at Cross Point Community Church – and I hope you will come if you are local!
It has been a privilege to be a part of some of the brainstorming and video development.
The (in)RL content will be rich, but the community experience will be even richer. So don't hesitate.
This is something you don't want to miss.
BONUS: (in)courage is giving away 100 mug and platter sets to the first 100 people who blog about (in)RL! Click here for details and to link your post.
Will you be joining in the fun of (in)RL? Please share in the comments!