Tonight we are going to  be kicking off the advent season with Elias and I am SO excited.
Here are the items we are using to help Elias understand the true meaning of Christmas.
1. Cradle to Cross Wreath
This hand carved wreath and figure of Mary is a beautiful new heirloom we invested in this year. Each night after dinner we plan to light the candle and talk about Mary and Joseph making their way toward Bethlehem. Elias is fascinated by candles and my heart is joyful at the thought of the quiet beauty of celebrating Advent in this way.
My friend Ann's son, Caleb, and her children make each one of these wreaths. The ship from Canada, so if you ordered one today you would definitely have it for the second half of the Christmas season and in time for a Christmas gift. The wreath also has extensions so you can use it during the Easter season too.
2. Truth in the Tinsel: An Advent Experience for Little Hands

I am not normally an ebook girl, but oh my word. If you have a child under 7, Truth in the Tinsel this is the best $4.99 $3.99 (20% off price with code: momcreative) you will spend this year. This ebook includes a daily scripture, lesson and ornament craft for the Advent season. Don't let the craft scare you – they are super, super simple and can be made with things you have around the house. And if the idea of doing something daily overwhelms, Amanda has modified schedules in the book too.
We will be attempting to do the daily projects that Amanda presents. Elias loves projects and I think every day he will look forward to our time together. It is also a great way for us to bond (Mama loves crafting!) while teaching him about Jesus. I plan to get the supplies out every morning so that I am not scrambling in the evening after work. (This weekend I may just put a box together with everything, but since I just got the book, I didn't have time to do that yet.)
Truth in the Tinsel is truly amazing for little ones. I can't recommend it highly enough!!
BONUS/ADDITIONAL RESOURCE: If you have older kids or you are looking for something for yourself for Advent, check out Ann Voskamp's free Jesse Tree Advent devotional.
3. Children's Nativity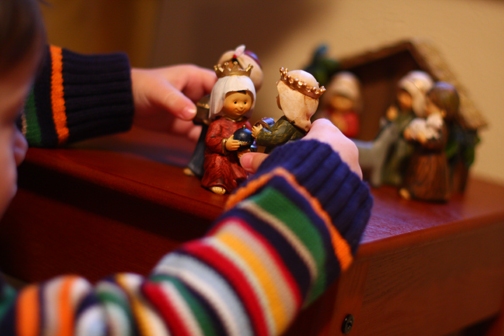 I think it is so important to have a nativity that your child(ren) can interact with. We have two that I love- one by Fisher Price and one by DaySpring. We got the DaySpring children's nativity
for Elias's room this year, and he has really been enjoying it.
He has been talking about all the people, telling stories and acting scenes out. It has been delightful to observe. We oftentimes will sit beside him, ask questions and experience the nativity with him.
The generous folks at DaySpring agreed to mark their children's nativity
down to $19.99 for TODAY ONLY for Mom Creative readers (regular price: $34.99). Plus, you can get free shipping on orders over $25 with the code shipping25 (maybe put some cards or a small clearance gift item in your cart). Shipping is otherwise $6.45, so it makes sense to add a $5 item and get free shipping!
This is the perfect item to add to your family's Christmas decor or give to a friend or loved one for Christmas. DaySpring has a limited supply of these nativities
, so take advantage of this sale and order one today. Readers in the past have talked about how expensive the Fisher Price nativity set is (almost $50), and I think this is a great alternative.
BONUS: You can also get 40% off (TODAY ONLY) my favorite Christmas home decor Nativity Hurricane Candle Holder Trio
with the code INDAY1 – making it just $35.99 instead of the regular $59.99.   Sales no longer available
How do you celebrate advent with your children?
If you are on Facebook, consider sharing this post to encourage other families with young children during this advent season. Thanks!
Post shared on Ann's Walk with Him Wednesdays.
Disclosure: compensated affiliate links used