Are you enjoying the Tommy Thursday series?
I hope so!
Today is the last Tommy book I will be featuring. (Next week will be a special video of me with the Tommy team, which we will be filming this weekend at The Relevant Conference.)
For today's Tommy Thursday I am featuring The Boy Who Changed the World
, which is a wonderfully inspiring children's book.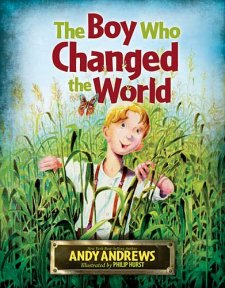 The Boy Who Changed the World
is about Norman Borlaug, a boy who had a heart to feed the hungry. As an adult, his work enabled millions of people to have food. He literally changed the world – however he couldn't have done it without the work of others. This sweet books tells that story and teaches that everyone matters and can make an impact.
What an empowering moral for our children!
The book is definitely geared toward kids older than Elias, but we have enjoyed looking at the beautiful illustrations and talking about the boy, Norman.
Check out this video of the author Andy Andrews talking about The Boy Who Changed the World.
Today I am excited to give away 5 copies of this book. If you don't have kids, this would be a great gift for your church's children's ministry.
Just leave a comment with who you would give this book to. If you don't have kids think of a niece or nephew, friend's child, baby gift or even donate it at Christmas time!
For additional entries (leave a separate comment for each entry!)
* Follow me on Twitter AND tweet this giveaway using this tweet: Win @tommynelson's The Boy Who Changed the World on @jessicanturner's blog http://www.themomcreative.com
* Become a public follower of The Mom Creative (if you are a follower already, that counts too!)
* Subscribe to The Mom Creative using a reader like netvibes, google reader, etc.
* Become a fan of The Mom Creative on Facebook.
* Become a fan of Tommy Nelson on Facebook.